What better way to decorate your balcony, your patio, or entrance to your home than with pots overflowing with colourful flowers? There is a great offer in store for planters, window boxes, and other containers ready to be installed in your home, ideal if you're short on time or struck by an irrepressible urge! If you feel like creating your own floral arrangements, here are a few tips to make them successful and offer you their maximum beauty, all year long.
Choosing the right pot
Plastic, clay, concrete… red, gray, black… with or without water supply… What to choose? Here's the key: Respect your environment! If your container is located in high winds, make sure you're choosing a wider base for better stability. Also, choose a heavier material. If your pot is very deep, you do not have to fill it entirely with soil; use some styrofoam, sand, rocks or other material at the bottom to fill a gap or to weigh down your container.
Choosing the right soil
The soil in which your plants grow is very important. For optimal results, choose a potting soil specially designed for containers, where nutrients are balanced to give your flowers everything they need. To give a little boost to your plants later in the season, put 2.5 cm of compost at the bottom of your pot before filling with potting soil. A good fertilizer will also stimulate the blooming of your plants, follow the manufacturer's instructions!
How to create your pots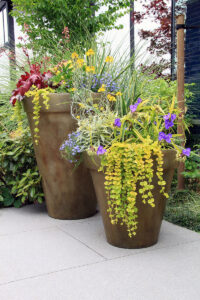 To ensure that your pots are well filled and well balanced, there are a few rules you must follow. First of all, choose your plants according to the type of sunlight your land offers. Also, remember that your plants will expand while growing: give them space! The word to remember: balance.
Thriller
Choose the central plant of your creation, the one that will dictate the tone of your flowerpot. We want her high and massive. It is time to opt for tropical plants such as canna or dracena, or even a beautiful ornamental grass like red silky pennisetum.
Filler
To surround the thriller plant, we choose different colour varieties and various heights. Flowers with an upright habit are preferred to give structure to your creation. Choices are endless!
Spiller
To complete your container, plant hanging and spilling plants all around the pot, such as ivy. Some varieties only have foliage while others bloom, the choice is up to you.
As the season progresses, your pots will become fuller and more lush. Be sure to keep them clean by weeding and removing dead flowers. As the days get cooler and your annual flowers lose their vigor, replace them by new plants that are more tolerant to the cold and who will give a new life to your floral arrangements, up until the first frost.